Spring 2022 Concert Band Session
WE'RE BACK!!!!

We are excited to welcome Daniel Johnson as our director for the Spring 2022 session.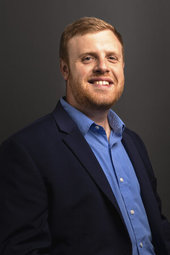 Daniel Johnson is currently pursuing a DMA in Band and Wind Ensemble Conducting from the University of Michigan's School of Music, Theater, and Dance. Prior to Michigan, Daniel earned a Master of Music degree in Wind Conducting from the Indiana University Jacobs School of Music. As an Associate Instructor at IU, Daniel assisted with all ensembles in the Department of Bands, studied conducting with Rodney Dorsey, and tuba with Dan Perantoni. Additionally, Daniel assisted with courses in undergraduate conducting, marching band techniques, and was Assistant Conductor of the IU Brass Choir under the direction of Demondrae Thurman. In the fall of 2020, Daniel designed and led IU's online marching band, the Virtual Marching Hundred. Originally from Virginia, Daniel served as a band director in the Fredericksburg City Public Schools of Virginia and the Fayette County Public Schools of Kentucky. Daniel earned his Bachelor of Music degree in Music Education from the University of Kentucky in 2015. During his time at UK, Daniel was a tuba student of Skip Gray.
2022 UMBAA Concert Band Dates: 
REHEARSALS
Thursdays 7:30 - 9:30pm
Spring Session
April 7,14, 21, 28
May 5, 12, 19, 26
April 9, 16, 23
June 2
CONCERT: Free and Open to the Public - McIntosh Theatre, School of Music, Theater and Dance
Sunday June 5th - 3pm
1 p.m. arrive
1:30 dress rehearsal - time approx: starts as soon as we are set up
2:30 house opens
3:00 concert
Repertoire
Who's Who in Navy Blue...JP Sousa
Nimrod from Enigma Variations...Edward Elgar arr. Alfred Reed
English Folk Song Suite...Ralph Vaughan Williams
Melodious Thunk...David Biedenbender
Prelude, Siciliano, and Rondo...Malcolm Arnold
Albanian Dance...Shelly Hanson
The Victors...Elbel
Covid Protocols
The UMBAA Concert Band will follow the same protocols established for Homecoming and the Alumni Pep Band.
Provide proof of vaccination. Exemptions for medical and religious reasons will be reviewed on a case by case basis.
Masks required while indoors at all times, except when eating or playing your instrument.
Daily health screening through the ResponsiBLUE system for access into Revelli Hall.
To cover the expenses of the Concert Band there is a participation fee of $30 per session. The participation fee will be collected when you register online at the link above.
Please pass the word onto your alumni friends that may not be on our e-mail list. It is easier to plan if we have a good head count and know what part you would like to play sooner rather than later.
Who are we?
Our UMBAA Concert Band holds ~10 rehearsals culminating in a concert each session. Our group runs two sessions each year: fall and winter. Since the first session in the spring of 2009, our members have grown in musicianship, some having dusted off their instruments for the first time in years and have once again set up a chair and stand in the basement to practice daily. Others play in multiple community bands. The Concert Band plays everything from traditional concert band repertoire to pieces less familiar to many members. Why? Simple. The piece did not exist when they last played in a concert band!
Want to Join?
If you are interested in becoming a member of the UMBAA Concert Band, we would love to have you join us! Our band welcomes players of all levels and abilities. Players must be UMBAA Members in Good Standing ($20/annually). A $30/session participation fee will be collected when you register online at the link above.
If you have any questions, please send an email to UMBAAconcertband@umich.edu.
Go Blue and Yuba!