Winter 2023 Concert Band Session

2023 UMBAA Concert Band Dates: 
REHEARSALS
Thursdays 7:30 - 9:30pm
Skyline HS Band Room (SHS)
Forsythe Middle School (FMS)
Winter Session
Jan 26 (SHS)
Feb 2,9 (FMS)
Feb 16,23 (SHS)
March 2,9,16,23 (SHS)
April 6,13 (SHS)
*No Rehearsal March 30th due to AAPS Spring Break
CONCERT: Free and Open to the Public - Saline HS Auditorium
Sunday April 16th - 3pm
1 p.m. arrive
1:30 dress rehearsal - time approx: starts as soon as we are set up
2:30 house opens
3:00 concert
Repertoire
Flourish For Wind Band - Vaughan Williams
Fairest of the Fair - Sousa
Symphony no. 1 Mvt 3 - Hearshen
Song (for Band) - Bolcom
Oklahoma! - arr. Leidzen
Simple Gifts - Ticheli
The Victors...Louis Elbel
We are excited to welcome Dr. Doris Doyon, DMA as our director for the Winter 2023 session.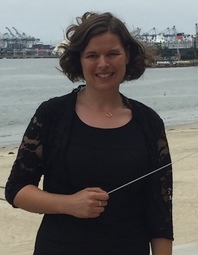 Doris Doyon (she/her) has been an active music educator for twenty years, teaching high school and middle school band in Washington, Nevada, and California. She most recently served as Director of Bands at Mt. San Antonio College in Walnut, CA, where she conducted the Wind Ensemble, Chamber Ensemble, and taught Music Appreciation. She previously served for eight years as Director of Instrumental Music at Norwalk High School, a Title I School in southeast Los Angeles County. During her tenure the instrumental music program grew to include three concert bands, marching band, jazz band, and orchestra. The band earned a six-year designation as a Grammy Signature School Program, and hosted many clinicians from around the nation.
Dr. Doyon completed a DMA in wind conducting at UCLA in December of 2022, and is pursuing a PhD in music education, wind conducting cognate, at the University of Michigan. She serves as a graduate student instructor in the music education department and is the assistant director of the Michigan Youth Band. She earned a Master of Arts in conducting and percussion performance from Truman State University and bachelor's degrees in music education and music performance cum laude from Pacific Lutheran University. Her primary conducting teachers include Michael Haithcock, Travis J. Cross, Dan Peterson, and Raydell Bradley.
To cover some of the expenses of the Concert Band there is a participation fee of $40 per session. The participation fee will be collected when you register online at the link above.
Please pass the word onto your alumni friends that may not be on our e-mail list. It is easier to plan if we have a good head count and know what part you would like to play sooner rather than later.
Who are we?
Our UMBAA Concert Band holds ~10 rehearsals culminating in a concert each session. Our group runs two sessions each year: fall and winter. Since the first session in the spring of 2009, our members have grown in musicianship, some having dusted off their instruments for the first time in years and have once again set up a chair and stand in the basement to practice daily. Others play in multiple community bands. The Concert Band plays everything from traditional concert band repertoire to pieces less familiar to many members. Why? Simple. The piece did not exist when they last played in a concert band!
Want to Join?
If you are interested in becoming a member of the UMBAA Concert Band, we would love to have you join us! Our band welcomes players of all levels and abilities. Players must be UMBAA Members in Good Standing ($20/annually). A $40/session participation fee will be collected when you register online at the link above.
If you have any questions, please send an email to UMBAAconcertband@umich.edu.
Go Blue and Yuba!