2018 -2019 Season
ALUMNI PEP BAND 27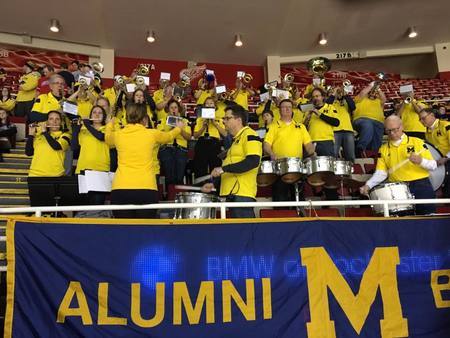 We would like to invite members of the Band Alumni Association to be part of the Michigan Alumni Pep Band for the 2018-2019 Season. The Michigan Athletic Bands is pleased to have your support with Basketball and Hockey games this year.
2019 Spring Schedule

| | | | | |
| --- | --- | --- | --- | --- |
| March 23, 2019 | Saturday | Water Polo | 10:30 AM | Indiana |
| March 23, 2019 | Saturday | Softball | 2:00 PM | Nebraska |
| April 7, 2019 | Sunday | Softball | 1:00 PM | Indiana |
| April 23, 2019 | Tuesday | Softball | 7:00 PM | Michigan State |
| April 26, 2019 | Friday | Softball | 6:00 PM | Penn State |
| April 28, 2019 | Sunday | Softball | 1:00 PM | Penn State |
| | | | | |
We would also plan to play at all potential Michigan Softball NCAA Regional (May 17-19) and Super Regional (May 24-26) games hosted at Alumni Field.
Please note that specific meeting times and locations will be announced at the rehearsals with reminders forwarded by email prior to the event. In general, plan to be at the game venue no later than 45 minutes prior to the start of the game.
Grace Wolfe is our Director, and Nathan Werme is the Assistant Director. The Alumni Pep Band, established in 1992, has been well received by the teams and fans, and we look forward to returning with the thrilling Michigan sounds that our alumni can produce.
Rehearsals will be held at Revelli Hall and are an hour and a half long. With our limited rehearsal time, members must attend rehearsals as they are our only opportunity to polish the old favorites and add new music to our repertoire. Due to space restrictions at some venues, we may have to limit the number of players. Attendance at rehearsals will be the primary factor in determining which players can perform.
If you are a current member of the Band Alumni Association and would like to be part of the Michigan Alumni Pep Band for the 2018-2019 season, please contact Pete Dalton at loudtuba@umich.edu or call 734-604-8086.
INTRODUCING NATHAN WERME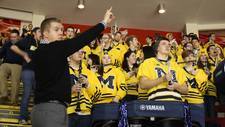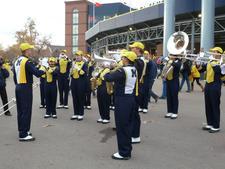 Nathan Werme began his love of the Michigan Marching Band program as a freshman trombone player in 2009. He was a four year member of the marching band and Campus/University Band, and he was a three year member of the Hockey Band. During his time in the MMB, he was a trombone rank leader and was the conductor of the Fanfare Band in his senior year. After graduating, he couldn't stay away for the MMB for long, as Dr. Pasquale would often ask Nathan to conduct the Hockey Band when he was out of town. Even as a "Fossil," Nathan still supports the band at every home game and loves getting back into step for the yearly "Blast from the Past."

When not cheering on the MMB, Nathan works as a transmission calibration engineer at Ford Motor Company in Livonia, MI.

Nathan is thrilled for the opportunity to be co-conductor of the Alumni Pep Band alongside former section-mate Grace Wolfe, and he looks forward to being a part of this great organization!