Your 2015-2016 Alumni Pep Band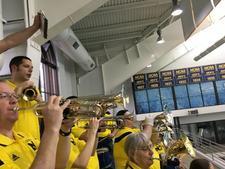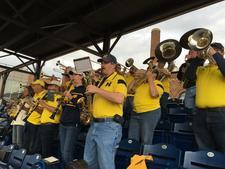 The 2015-16 Alumni Pep Band season wrapped up with our last few performances at the NCAA softball playoffs at the end of May, with Michigan being one of the host teams at our own Alumni Field. We fielded a large, enthusiastic pep band for several softball games this season, to great success. We also performed at a baseball game on May 7 vs. Rutgers, which was the celebration of the 150th anniversary of Michigan athletics. Earlier in the pep band season we played at ice hockey and men's and women's basketball games during Thanksgiving and Winter breaks. We also had the privilege to be the first pep band to play at a water polo game, when we played for the women's team in April, against nationally ranked Harvard in Canham Natatorium. As always, the performers had a wonderful time at all these events, supporting our student-athletes while upholding the high standards expected from the Michigan Band program. We were once again conducted this season by Dr. Jim Nissen, with occasional substitute directing from Dr. Andrea Brown, Grace Wolfe, former MMB GSI and trombone section leader, and Nick Smith, current MMB GSI. We cannot thank them enough for their conducting expertise and flexibility to step in when needed, especially given limited practice schedule.
We look forward to starting another Alumni Pep Band season this coming fall, and are excited to announce that Grace Wolfe will be joining Dr. Nissen as co-conductor. Grace received her bachelor's degree in trombone performance and music education from the University of Michigan. While at U-M, she performed with the Concert Band, Symphony Band, Philharmonic Orchestra, Trombone Ensemble, and various chamber groups. In 2015 she had the opportunity to travel to Washington D.C. to perform at the American Trombone Workshop with the University of Michigan Trombone Ensemble, and in 2012 she traveled to China with a group of U-M students and faculty for a music education cultural exchange. Grace was also a proud member of the Michigan Marching Band, marching for four years and serving as a GSI for one. Additionally, she spent four years playing in the Michigan Hockey Band. During her time at the university, Grace was a member of Sigma Alpha Iota (professional women's music fraternity) and Kappa Kappa Psi (band service fraternity).
Grace currently teaches band for the Birmingham Public Schools, specifically at Derby Middle School and Seaholm High School. She conducts a wide array of ensembles, including concert bands, marching band, jazz band, pep band, and pit orchestra. She can still be found performing as the principal trombonist for the Dexter Community Orchestra. Grace is delighted to continue her relationship with the University of Michigan athletic bands as the Co-Conductor of the UMBAA Pep Band.
The Alumni Paid Band has had several gigs this spring and summer, as well. They played at several weddings, both inside Michigan Stadium and at various off campus locations, and two birthday parties.
We are always looking to add new members to the Pep Band! If you would like to join us in the fall, please contact Pete Dalton at loudtuba@umich.edu. The rehearsal and performance schedule is typically announced in September or October. You must be a current dues-paying member of UMBAA to participate.