Congratulations Drum Major #53, McKenna Thayer!

McKenna has a younger sister, Alana, who is studying at Central Michigan University and is on their Track and Field team, and three older siblings including Julie, Emily, and Kevin. Her father is Rusty Thayer and stepmother is Lori Thayer. Her mother, Penny Neer, also graduated from the University of Michigan and was a member of three varsity sports teams including Track and Field, Basketball, and Softball. Penny went on to be a member of the 1992 Olympic Team.
GO BLUE!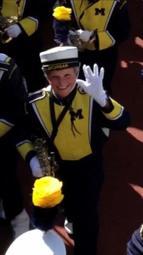 McKenna Thayer is orginally from Hillsdale, Michigan where she was on the varsity volleyball, track and field, and Envirothon teams. She was involved in many extra-curricular activities and was the Drum Major for three years of the Hillsdale High School Marching Band. She is a senior double majoring in Earth and Environmental Sciences (Geology) and Program in the Environment. McKenna served the band as a rank leader for 2 years in the Alto Sax section, and has played in the Maize Campus Band and the Hockey Band. Off the field McKenna is actively involved in the Lambda Chapter of Tau Beta Sigma and works in Athletics on the football facilities crew and in the Earth and Environmental Sciences Department.
McKenna will serve in her first season as "Michigan's Drum Major" for the 2016 season.
Hello! My name is McKenna Thayer, and I am a senior in LSA, double majoring in geology and environmental science. Before becoming Drum Major I played the Alto Sax and I was a rank leader for two years. I am a sister of Tau Beta Sigma, where I serve on the Membership and Game Day committees. In TBS I am also the Sustainability Chair, which is a new position focusing on how we can implement sustainable practices in the Marching, Athletic, and Campus bands, and especially within our chapters of TBS and KKY.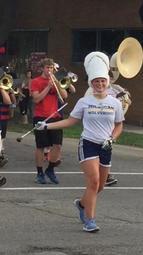 I was in the marching band for four years in my hometown at Hillsdale High School. I was a section leader, and played both clarinet and alto sax. I was also lucky to serve as their Drum Major for three years! Along with marching band I was involved in my high school's chapter of National Honor Society, I served on student council for four years, and was on the Volleyball and Track and Field teams. The MMB was a huge part of my decision to apply to and attend the University of Michigan.
This was actually the second year I auditioned for the role of Drum Major here at U of M. As it turns out, I think not getting the position last year played a vital role in my earning the position this year. For starters it allowed me another year to mature and learn from another fantastic Drum Major, Matt Cloutier. Jeff Okala and Matt had very different leadership styles, and I was able to learn so much by watching and comparing these two. Actually, deciding to come back and audition again was one of the hardest things I have ever done. I needed the time to mature, and I needed to be much more humble, and I got that from not getting it my Junior year. Most importantly, it allowed me to really dig deep and think about why I wanted to be the Drum Major.
This program has given me so much. I have met friends who have turned into family, I have learned about leadership, and even more importantly for myself, how to be an effective follower. I learned about competition and teamwork, about failure and success. It is incredible to be a part of something so much bigger than myself. I learned the importance of support, and how tradition is what makes a program truly great. I received scholarships from alumni and donors, and I can honestly say I wouldn't be here without that. I have learned what it feels like to give all of yourself to something, and come out successful, and more importantly, to come out unsuccessful. I've learned how to dig deep and give more even when I thought I had already given everything I had. The MMB has made me who I am, and will forever be a part of my character. It has made me patient, committed, selfless, humble, honest, confident, reliable, and so many things that I will forever use throughout my life. This program has given me and taught me so much. And when I thought about this, there was no doubt in my mind that I wanted to do whatever I could to serve this amazing organization. It's when I realized all of this that the decision to re-audition, the decision to put myself out there again even after the pain of not being chosen last year, became an easy one.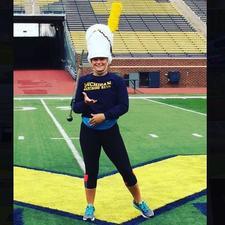 I am so excited for this year. I get to give my all to a program that has given me everything, we have Harbaugh for his second year, and I get to take the field with my 400 closest friends! I have been told it goes by pretty fast, so I am going to soak up every second I have in my final year here with the MMB. See you in the fall, GO BLUE!!
Thanks and go blue!
McKenna