The First Annual ΚΚΨ/ΤΒΣ Homecoming Brunch
by Michael Lee, tuba, 1993, Kappa Kappa Psi-Nu Life Member, Tau Beta Sigma-Lambda Honorary
On Sunday, October 11, 2015, the day after our fabulous Blast from the Past with the New York Philharmonic Brass, the Nu chapter of Kappa Kappa Psi and the Lambda chapter of Tau Beta Sigma hosted their First Annual ΚΚΨ/ΤΒΣ Alumni Homecoming Brunch.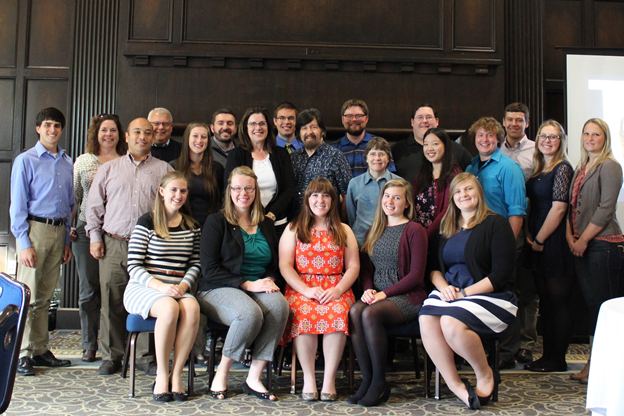 Front Row LtoR: Katie Lehman, flag, 2013; Natalie Setterberg, trombone, 2012; Natalie Zimmerman, clarinet, 2013; Ashley Howard, piccolo, 2012; Rachel Stopchinski, piccolo, 2012
Second Row LtoR: Michael Lee, tuba, 1993; Laura Lindgren, trombone, 2009; Gail Stout, trumpet, 1978; Rich Alder, clarinet, 1969; Linda Ridley, clarinet, 1973; Victoria Liu, flag/piccolo , 2008; Darin Martin, tuba, 2012; Madison Garver, clarinet, 2012; McKenna Thayer, alto saxophone, 2013
Third Row LtoR: Adrian Padin, trumpet, 2013; Mary Straffon, flag, 1982; Gary Straffon, tuba, 1973; Marco Krcatovich II, trombone, 2000; Scott Kriss, clarinet, 2011; ;Jim Kozich, F Horn, 2005; Matthew Benjamin, tuba, 2013
We all had a wonderful time catching up with each other and finding out what Nu and Lambda are up to. As you can see from the picture, the attendees' first year in band ranged from 1969 to 2013. Stories were told about past Nu and Lambda activities as well as conventions and fun band stories.
They are planning to do this again this year after the 2016 Blast from the Past. If you are an alumnus/ae of Nu or Lambda, your attendance is highly recommended!