JOHN STOUT, MY FRIEND
by Carl Grapentine
It's hard to believe that John and I were friends for almost 40 years. And since John was a part of Michigan Band history for 40 years, I think it's fitting that I was first introduced to him by another big part of Michigan Band history, Albert Ahronheim. Albert served as Drum Major of the MMB for the 1972-74 seasons and began arranging for the band during that time. His arrangements include "Let's Go Blue," "Hoover Street Rag," "Calyptors," and more. Then, just as Albert was preparing to leave Ann Arbor and further his music career in New York, he introduced me to this tall, lanky, long-haired, sorta geeky School of Music student named John Stout. He told me that John was going to "do a few arrangements for the MMB." Yeah, I guess he did! Just a few! Starting with the epic "Star Wars" show of 1977, John defined the sound of the MMB for the next four decades.
Most of us know about John's musical talents, his success in business, his philanthropy, and his lovely family. But what was it like to be his friend? To me, John's most prominent quality was his impish sense of humor. Even though he lived until the age of 60 and was successful in so many fields, to me he was always that geeky kid with the non-stop sense of the silly.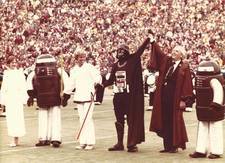 John dressed as Darth Vader for the 1977 Star Wars show
For several years we spent lots of time together. I was with him and Gail the day they got engaged. I sang at their wedding. I remember the births of Michael and Lauren. The closeness became more difficult when I moved to Chicago in 1986. And yet, for the next 30 years, it was as if we hadn't missed a day together. I would drive in from Chicago and be standing on the sidelines at Elbel Field, concentrating on the show being rehearsed when a certain someone would sneak up behind me and make the silliest (and sometimes un-repeatable) comment about life, the band, music, football...whatever. Whether he was mimicking certain MMB directors, or quoting his favorite "Truly Tasteless Jokes," (remember those?) John's bright, silly, absurdist take on the world always brightened my day. Yes, he was disguised as an adult—short hair, business concerns, being a husband and father—but that talented, funny kid I met in 1977 was still there too. And that is how I will always remember him, with a smile.