Happy August!!
As we gear up for the 2017 season, we want to make you aware of some of the exciting things that are planned for Homecoming '17. As you know, 2017 marks the Bicentennial Year for the University. There are several more celebrations planned for this year, one of which is homecoming!! This means that we will have a special celebration halftime performance this year. Below is a preliminary schedule for Saturday, but we can confirm that this year's halftime performance will be a collaborative performance between the MMB, Alumni Band, and the University. This year's unique halftime performance promises to be a rewarding and memorable experience for all as we celebrate the past, present, and future of our great University!
There will be a Friday evening rehearsal on Oct 27th from 8-9 PM. Only registered Alumni band members will be allowed into the stadium. There will be a list with everyone's name on it at the entrance to the tunnel. This rehearsal is strongly encouraged as there we will need as much time as possible to coordinate the show. The show is titled "Forever Valiant" and celebrates the University's bicentennial milestone. The collective generations that make up the revered MMB will combine to celebrate the top-rated institution of higher education in the country!
In order for you to be able to participate in this once in a lifetime experience, and for future announcements, you must be an active member in good standing of UMBAA. Go to umbaa.org and click on the Member Portal link to log in, renew, or register for membership. Click on "Events" and then click on "Homecoming".

•Registration will open August 6th
•Late Registration Begins (early registration ends) Oct 15th
      -Price for late registration will be the face value of a ticket for this game ($90)
•Refunds will be processed up till Oct 15th
•No week of or day of registrations will be accepted - No exceptions!
•Oct 22nd is the hard-cutoff date for registration (aka registration closes)
•Instrument requests will not be taken after Oct 15th
We have had to adapt our policies for Blast registration because people have taken our past flexibility for granted. We believe that allowing extra time to register will allow everyone to make plans in advance so that they can join their friends and family on the field October 28th.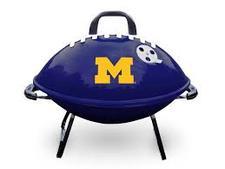 Join Us for the Pre-BLAST BBQ

We cordially invite all BLAST participants to attend a BBQ at Revelli Hall prior to our Stadium rehearsal the Friday night before Homecoming. The menu will include (but not be limited to!) hamburgers, hot dogs, veggie burgers, potato salad, assorted desserts, and refreshments. Family and friends are also welcome to attend, and may purchase a ticket for $5 ahead of time with your BLAST registration, or at the door that evening. We hope to see everyone there! Stay tuned for a future M Notes email with exact times.
67th Annual Incredibly Tentative Blast Itinerary
All of the Alumni Band items are in bold. Changes to this schedule may occur. 
Friday October 27
TBD–7:00 PM Early Registration Pickup—Revelli Hall: Your Blast Participation Badge, music, and updated BLAST information will be in your BLAST packet
TBD-7:00 PM Early Instrument Checkout—Revelli Hall
8:00 - 9:00 Rehearsal in Michigan Stadium
Saturday October 28
  6:15 a.m. Revelli Hall opens
  6:30 a.m. ALUMNI arrive to set-up for registration
  6:45 a.m. ALUMNI registration and coffee hour
  7:30 a.m. M Band Rehearsal (starting outside)
  7:40 a.m. ALUMNI meeting/indoor rehearsal begins
  8:15 a.m. ALUMNI join M Band on Elbel Field
  9:15 a.m. Scholarship presentation
  9:20 a.m. ALUMNI set pre-game block on east sideline
  9:30 a.m. Lunch
10:30 a.m. M Band Percussion step show
10:30 a.m. M Band Visualization
10:50 a.m. M Band meet in back of Revelli Hall
10:50 a.m. ALUMNI meet on front steps of Revelli
10:55 a.m. ALUMNI depart for Stadium
11:00 a.m. M Band perform at Go Blue Brunch
11:10 a.m. ALUMNI arrive at the stadium
11:15-11:25 ALUMNI concert on stadium steps
11:20 a.m. M Band Leave for stadium
11:35 a.m. ALUMNI in tunnel
11:40 a.m. M Band Arrive at the Stadium
11:50 p.m. ALUMNI pre-game
11:55 p.m. M Band pre-game
12:10 p.m. Kick-off

ALUMNI and M Band reception following game

5:30 p.m. Revelli Hall cleared and building locked
Sunday October 29 ***TBD***
9:00 AM Breakfast with Nu/Lambda KKY/TBS (pre-registered guests only)